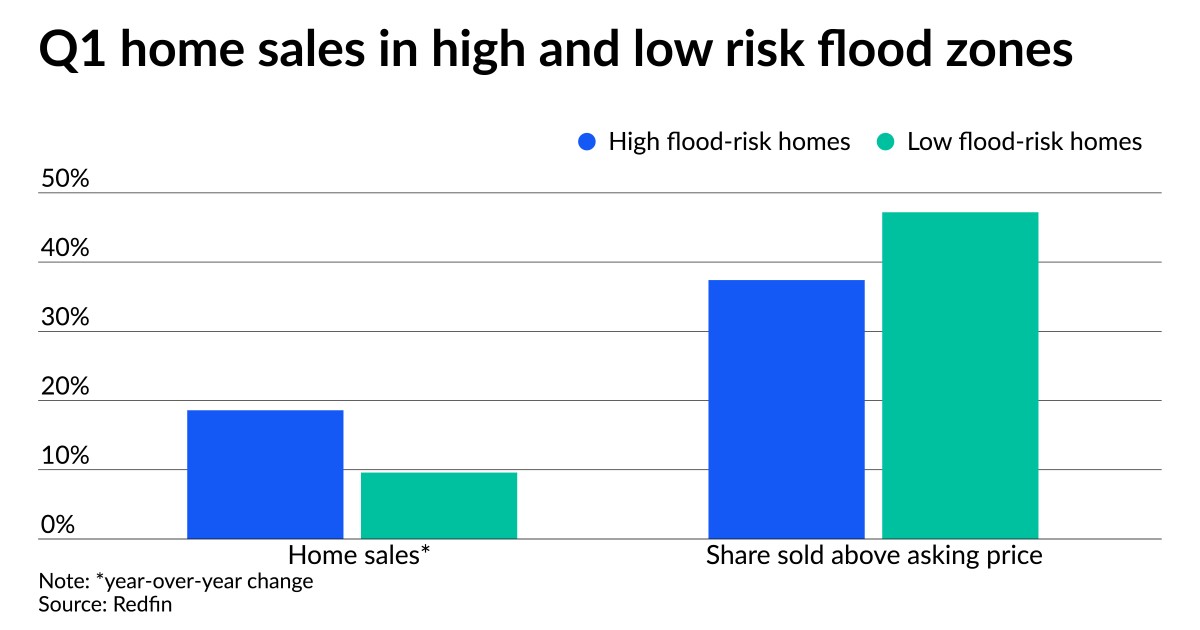 Rising sea levels aren't keeping buyers from scooping up oceanfront homes.
As work flexibility gives consumers wider options of where to live, homes in high flood risk areas sold for a record high 13.6% premium over those in low-risk locations in the first quarter of 2021, according to Redfin. That premium jumped from 10.1% annually and from 7.2% two years ago. High-risk properties climbed to a median sales price of $402,010 versus $353,783 for their low-risk counterparts in the quarter.
Flood-risk home sales volume also shot up 18.6% annually in the year's opening quarter, nearly doubling the 9.6% annual growth rate of low-risk homes.
Although climate change deters nearly three-quarters of borrowers in their search, it's not enough of a deal breaker for buyers who want their dream home on the water.
"This may be because buyers aren't aware they're purchasing a home in a flood plain or just don't view it as an immediate danger," Redfin senior economist Sheharyar Bokhari said in the report. "Places with high flood risk are also often home to large concentrations of retirees, many of whom don't see climate change as a threat they need to worry about in their lifetime. Florida is one example."
Despite growing populations in coastal regions, the risks associated with properties in these areas continue to increase. About 8 million homes on the Atlantic and Gulf Coasts currently face storm surge risks, adding up to an estimated $1.9 trillion in water damage reconstruction costs, according to a recent CoreLogic report. Those figures rose from 7.4 million and $1.8 trillion in 2020.
Meanwhile, due to a larger swath of potential buyers, more low-risk homes sold above asking price in 2021's opening quarter. A 47.2% share fetched more than the listing prices compared to 37.4% of high-risk properties. That relationship held since at least the first quarter of 2013 even as the distance between the two varied over time.