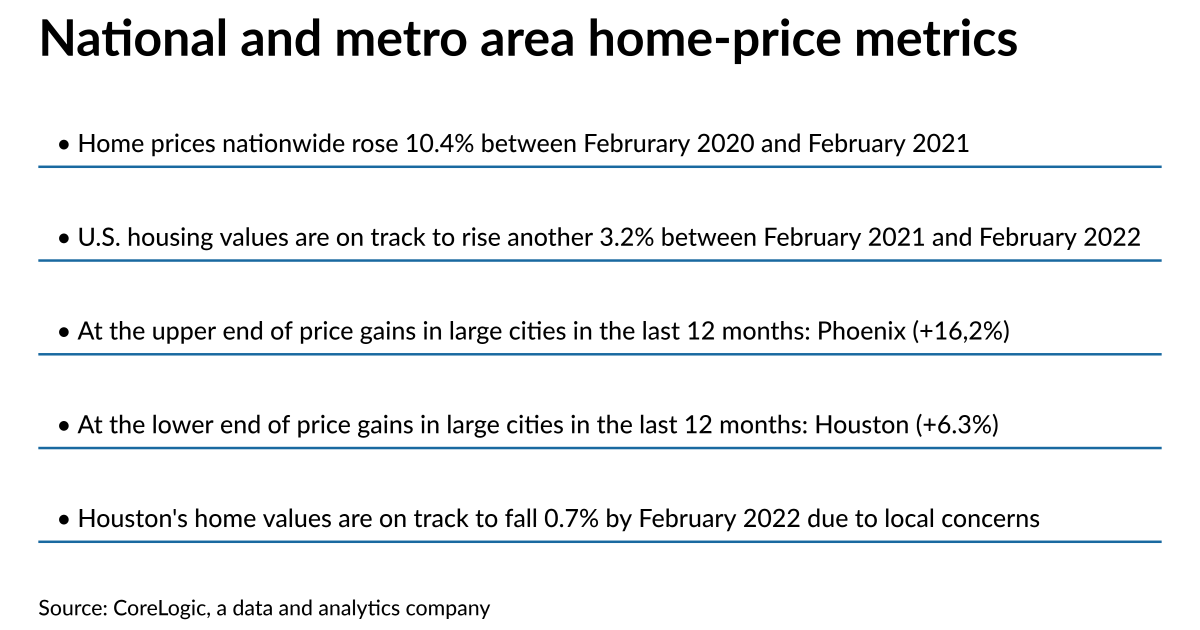 Though home prices are largely on track to appreciate at a slower rate this year as compared with 2020, some metropolitan areas have a 25% to 50% chance of seeing falling values, CoreLogic warned Tuesday.
That means depreciation is a risk that could creep back into some regions, potentially requiring lenders and government-related agencies to consider it when setting down payment requirements or managing loan workouts once forbearance ends.
"In markets like Houston, which was hit hard by the collapse of the oil industry and the recent hurricane season, home prices are expected to decline 0.7% by February 2022," Corelogic's latest monthly Home Price Insights report said.
That presents a notable contrast to the period between February 2020 and February 2021, when housing values in Houston climbed 6.3%.
However, Houston's gain was at the lower end of those seen in large cities during that period. In Phoenix, for example, prices rose 16.2%.
Five other metropolitan areas where depreciation could materialize in upcoming months are: Brownsville-Harlingen, Texas; Beaumont-Port Arthur, Texas; Lake Charles, La.; New Haven-Milford, Conn.; and Miami-Miami Beach-Kendall, Fla.
As in Houston, most of these areas have distinct regional issues contributing to depreciation forecasts in CoreLogic's Market Risk Indicator.
Brownsville-Harlingen and New Haven-Milford were particularly hard-hit by the coronavirus, Beaumont-Port Arthur has high unemployment, Lake Charles is recovering from hurricanes, and Miami-Miami Beach-Kendall is highly reliant on the struggling hospitality industry.
Government rescue funds and an ongoing vaccination program may help some of these areas to recover and avoid depreciation but the outcomes from those remain to be seen.